news details

Can diffused glass be used in agricultural vegetable greenhouses?
As a planting greenhouse, agricultural vegetable greenhouse is the main type of greenhouse used at present. Agricultural vegetable greenhouses are mainly divided into three categories: film greenhouses, solar greenhouses and glass greenhouses. At this stage, many manufacturers and owners building traditional greenhouses are also beginning to make transformation, gradually turning from sunlight plate and film greenhouses to glass greenhouses. Some people also began to have some questions. Can scattered glass be used in agricultural vegetable greenhouses?

First of all, we should understand what type of greenhouse our greenhouse is. Film greenhouse is generally arched. Some solar greenhouses are steel structure, and some are arched. It is not feasible to reconstruct and install glass on the original basis. Generally, hot-dip galvanized pipes are used in glass greenhouses. The load-bearing of ordinary greenhouses is limited, and the profiles can not meet the requirements, which is prone to accidents. The glass used in agricultural vegetable greenhouses is different from that used in buildings. Low-E glass is used in buildings and diffused glass is used in greenhouses. They are completely different in functional requirements and use requirements. The use of diffused glass in agricultural vegetable greenhouses has the following advantages: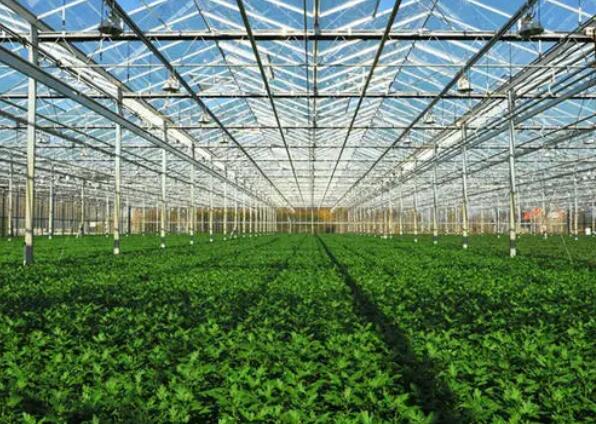 1. Diffused glass has light selectivity. The light passing through the glass is blue and purple light for the growth of some vegetables such as tomato, cucumber and pepper, which is conducive to increasing the yield of greenhouse.
2. The diffused glass has strong diffused and high diffused characteristics, which can make the light coverage of agricultural vegetable greenhouse more uniform and ensure that every corner of agricultural vegetable greenhouse can get sufficient sunlight. The diffused characteristics can weaken the temperature of the plant surface, reduce the average temperature by 3-5 degrees Celsius, and prevent the plant leaves from wilting, scorching and yellowing.
3. diffused glass has a lot of haze. Different haze specifications can make diffused glass suitable for different regions. In completely different climates, the best ratio of light transmission can be achieved by adjusting the haze value of scattered glass.